Events and Ticketing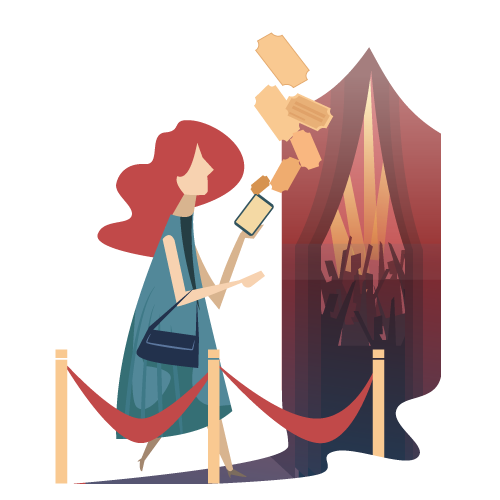 Events can include appointments, concerts, and regular repeating activities. An app can note when event is coming up. It can allow users to sign up for event, thus giving the organiser an idea of how many people are likely to attend. For events with limited attendees, app users can sign up on a first-come first served basis.
An event can be ticketed with ticket sold through the app. A resulting 'e-ticket' can be sent to the app, removing the need for a paper ticket.
There are many possibilities for using an app to manage events. Here are some scenarios that illustrate the potential.
Dinner club
Berlin dinner club is run by a an organiser based in Berlin. Its members meet once a month in a different restaurant. Each event is a culinary event, but the members also use it to practice speaking English. The organiser negotiates a price with the restaurant. It is helpful to know how many people are coming, as this will change from month to month.
App solution: Members log in to the app. The organiser posts details of the forthcoming meal and members sign up to say they are coming. The organiser has an extended version of the app that allows him alone to see the list of attendees who have signed up. Note that the app could allow all users to see who else is coming, or confine this information to the organiser.
Theatre
A theatre sells tickets for plays, concerts and so on. The app advertises upcoming events, and users can buy tickets through the app.
There are levels of complexity to consider here. A local theatre might sell just one type of ticket, but many will want different prices for different seats, or different prices for adult and child tickets.
Gym class
Many gyms offer group exercise activities such as pilates, yoga or exercise sessions lead by a trainer. Sometimes the number of available slots is limited by equipment availability practical constraints on class size.
Cost and technical implications: Ticketing will always require an app that communicates with a central server that manages ticket numbers. The simplest implementations with sign-up type ticketing can be built on the templedynamic website using the standard product, so the low to medium.
More complicated version would quickly cause costs to increase - a ticketing app for a major opera house with complicated ticketing policies and prices would be a far more challenging undertaking, requiring investment to match.